April 2007
Sharechive LLC Revolutionizes New York Department of Transportation

New York State Department of Transportation (NYSDOT) is now using a high-tech Construction Management solution, designed by ShareChive LLC, to save their department time and money on many recent projects. Tom Brink, a NYSDOT Consultant Inspector and Office Engineer, explains the positive impact ShareChive's FACS (Field Automated Communication System) software, running on wireless tablets, has made over their old methods of construction management.
"Time costs money" is the most obvious benefit of tablet technology. A big part of the ShareChive LLC service-oriented solution, is that all client documents, such as plans, specifications, CPMs and reports are all processed and loaded on to portable tablets.
Field Inspectors are equipped with 'ruggedized' PC tablets on the construction site, which are waterproof and not as fragile as traditional laptops. Tablets can instantly refer to contract plans, specifications, and correspondence, previously stored in the office. Brink admits that before using the ShareChive solution, inspectors would take a lot of time to travel back to the office to research most material, too cumbersome to drag out to the field.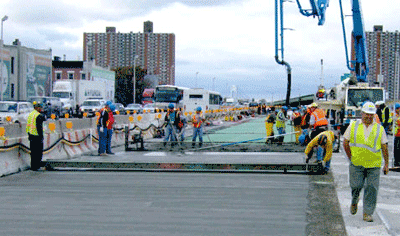 ShareChive's service also includes linking all document references, so that the project staff does not spend time thumbing through reams of Standard Specifications and Special Specifications pages, referenced by contract plans. ShareChive also ensures that all client documents, published on tablets, are searchable and secure.
Another timesaving benefit of using ShareChive's tablets is the wireless connectivity to WiFi high-speed Internet and project data in the ShareChive database. Wireless communication is indispensable for updating contract material, such as plans, Schedules and Pay Estimates. Using ShareChive tablets, updated material instantaneously informs all parties involved, so that, contrary to traditional methods, all parties base their decisions on current material.
Brink is also impressed with the ease and security of the Correspondence module of FACS for relaying and retrieving all digitally transmitted types of project communication. "The old system relied upon the project management staff disseminating pertinent information. Correspondence was often misfiled or lost and was not easily retrieved." ShareChive enforces security by using encryption and password-protected interfaces.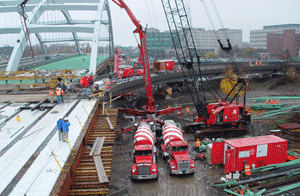 Similarly, wireless connectivity allows for instant correspondence, streamlining the communication and approval process. Each tablet runs ShareChive proprietary FACS software, which records journal reports.
The ShareChive LLC service solution also customizes frequently used client Forms, so clients are already familiar with their own process. NYSDOT Inspector Brink explains "Additionally, there are many forms and documents that are available in FACS for the inspector to use and attach to their reports. The inspector can scan and attach any document as well, making forms a part of their permanent archive."
FACS (Field Automated Communication System) is the ShareChive's software, which runs on the wireless PCs, written to emulate traditional Daily Journals. The FACS interface allows inspectors and managers to digitally record all construction activities, in real time.
"Under our old system, an inspector would observe a contractor's activities in the field, jot down notes in their field book and compile the field notes into a Daily Journal. Then, their paper copies of Daily Journals were handed to the Project Manager, who would then add his comments on 'Post-it' notes and hand them back to the inspector." This antiquated paper process was time-consuming, taking days, as compared to electronically recording information on ShareChive field tablets in real time. Wirelessly transmitted FACS reports are legible, permanent, and can be instantly accessed at anytime, by everyone involved.
Brink enthusiastically believes in the efficiency of reporting digitally with ShareChive's turnkey solution of hardware-FACS software and customization service for construction management. "With FACS, inspector reports are completed the day the work is accomplished, giving the project managers instant access to the inspector reports, instead of waiting for them to be submitted on paper. Any comments back to the inspector are accomplished by electronic notes, which cannot fall off a report or get lost as can happen with the paper reports. The inspector has access to their reports at all times and is able to edit and/or respond back to the commenting manager."
Brink states that FACS reports add tremendous efficiency to many other facets of construction management.
FACS reports expedite contract payments with accuracy. "Previously, data was manually entered into the payment software. With FACS, as soon as the Inspector's Daily Report is approved, it is available for research on materials acceptance issues and materials partial payment action. There is no manual data entry, eliminating errors and the need for another round of reviews. The information is also available to others for researching payments and item histories."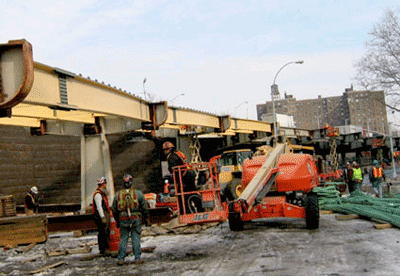 Brink explains how the FACS reporting system automatically compiles information for the project manager to better evaluate the CPM scheduling construction. "FACS empowers traditional CPM (Critical Path Method) scheduling software, allowing project personnel to compare actual progress against the expected progress, thereby flagging any activities that are approaching the maximum time allowed and impacts the total float." The FACS reports can verify the accuracy between the actual money and time spent with the planned CPMs and Pay Estimates.
Further, Tom Brink realizes the future benefits of evaluating the extracted FACS data from the Daily Journals. "These FACS reports also help in evaluating contractor claims of delays and allow for a better understanding of how the schedule is impacted by delays to activities and what causes the delays."
Lastly, ShareChive archives all the project data, creating a searchable paperless paper trail of all FACS project reports, contract plans and specifications, correspondences, pay estimates and CPM updates securely on a CD. Tom laughs when he reflects on NYSDOT's old archiving system. "In the past, projects were archived by packing all the documentation into file boxes, transported to a storage facility and stored for a period, before they were destroyed. Searching through these records was time consuming and not always fruitful. Documents were removed and not returned, others were misfiled into boxes where they didn't belong and in the end, the project files became an unsearchable mess. Storing all the project documents took so much square footage, that previous project archives had to be destroyed, to make room to store a more recent project. No record existed of any of the documents, thereby eliminating any future research."
The NYSDOT is currently planning many more infrastructure projects using ShareChive's FACS turnkey service solution. These plans include the new World Trade Center.
ShareChive LLC, based in San Francisco, is the premier provider of wireless, web-based program management solutions for large, complex construction projects. ShareChive's primary customer base is the construction industry due to its strong ability to provide core construction management solutions whenever remote, secure, and robust interactive access to project information is required.
Founded in 2001, ShareChive LLC is a privately owned software development company. By providing a 3-part solution of construction management, hardware, software and FACS proprietary software, ShareChive is able to extend time-critical project data to field personnel via a wireless and mobile tablet PC. ShareChive has automated the paper driven construction industry making it possible for Project Managers, Resident Engineers, Inspectors, etc. to manage projects wirelessly.